Our Visit to Banaue Rice Terraces, Philippines
Our family stop by at Banaue from Sagada before going back to Manila. The travel distance from Sagada to Banaue is approximately 3 hours. We left Sagada at 10:30 in the morning via Codalines and arrived by 1 PM in Banaue. We plan to stay Banaue for 1 night and two days just to see the Batad rice terraces and soak to the hot springs at Hapao Rice Terraces. This is not our first time to visit Banaue. We've been here a few years ago when we are just dating with my husband now.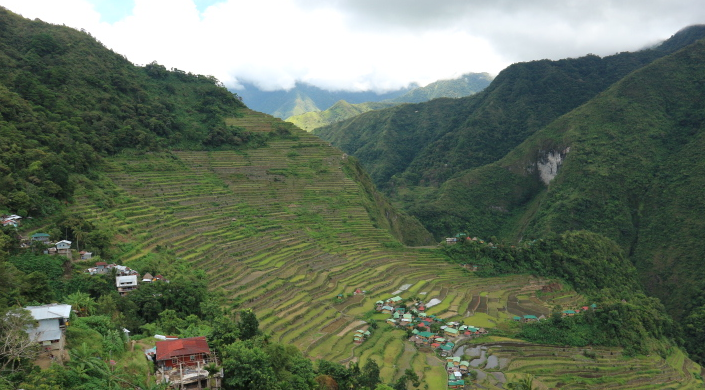 Banaue is famous for its rice terraces, carved by the ancient Ifugaos. Built by the early tools and methods to maximize the use of landscape. Arranged it as the stairway to heaven as the terraces start from the base and extending to several feet upwards. Anthropologists believed that these Banaue rice terraces are more than 2000 years old. While studies based on Carbon dating said rice terraces are less than 1000 years old. These rice terraces are irrigated from the mountains streams and springs that run down to every canal of the terraces.
We stayed at Sanafe Lodge and restaurant for 1 night booked via the Sanafe facebook page. Agoda is another option if you want to book a Sanafe lodge. We are 4 and we stayed in a room with two queen size bed price at Php 2000 for 1 night. Breakfast is not included. The owner of Sanafe lodge assisted us in renting a car for our tour to Hapao and Batad Rice Terraces. The rent for the Hapao tour private car is Php 2500 while Php 2800 for Batad Rice Terraces. Paid the driver later our trip with total Php 5200. We chose Sanafe lodge as this is the place we booked on our first visit to Banaue. We knew that visitors inside this lodge has a good view and can enjoy the mystical view of rice terraces.
After eating lunch at Sanafe Lodge and restaurant we had a short nap in our room for about 1 hour. By 4 PM we are out to explore the center of Banaue. There is a bridge overlooking from our room and we decided to see it closely. We supposed to start touring the rice terraces on our first afternoon in Banaue but the rain is so heavy by that time so we decided to trek rice terraces on the next day first thing in the morning.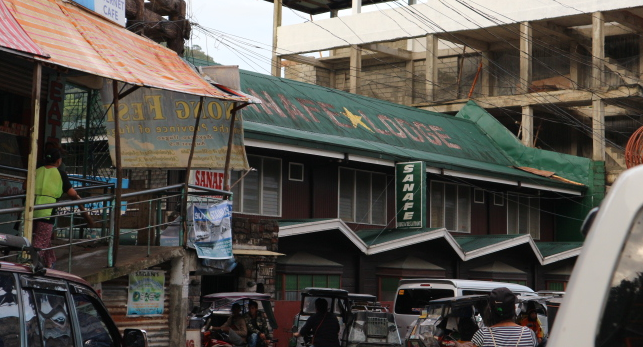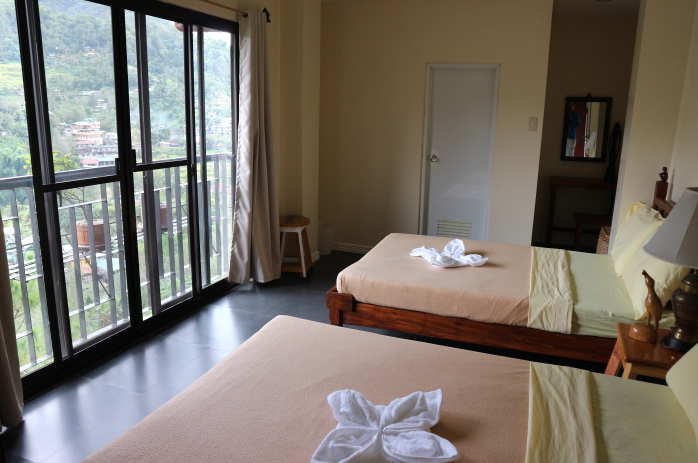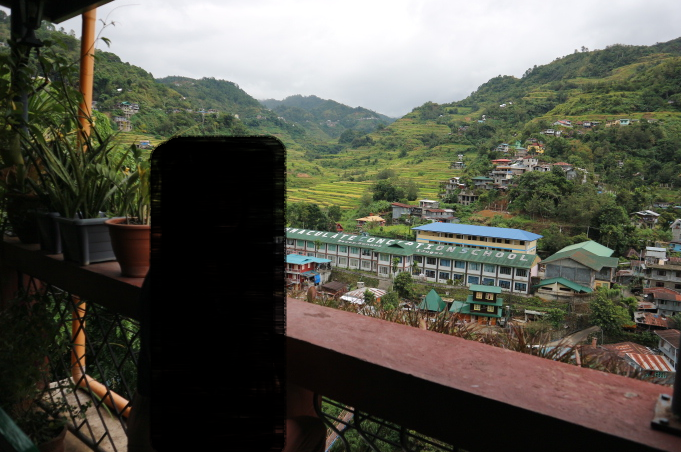 There is a river when you look down the Sanafe lodge with a long bridge that serves as a short way from the Public Market to the other side of the river or vice versa. Our kids wanted to try crossing the bridge so we went down and see it closely.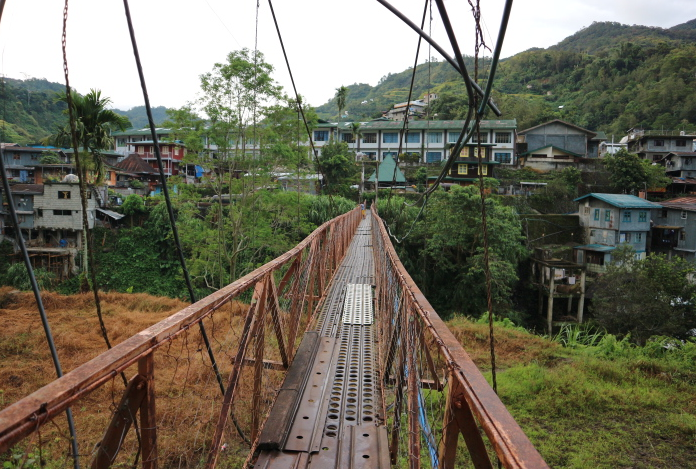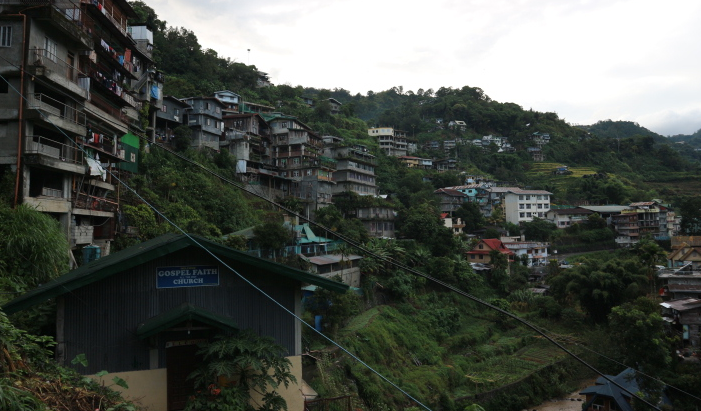 After a long walk at the center of Banaue, we look for a restaurant where we could have our dinner. Sanafe Lodge has a restaurant but their foods by that time are mainly fry-cook. We wanted to sip a hot soup so we look for another restaurant just a few blocks away from Sanafe Lodge. We saw the People's lodge where guests can enjoy eating while watching the beautiful Rice Terraces.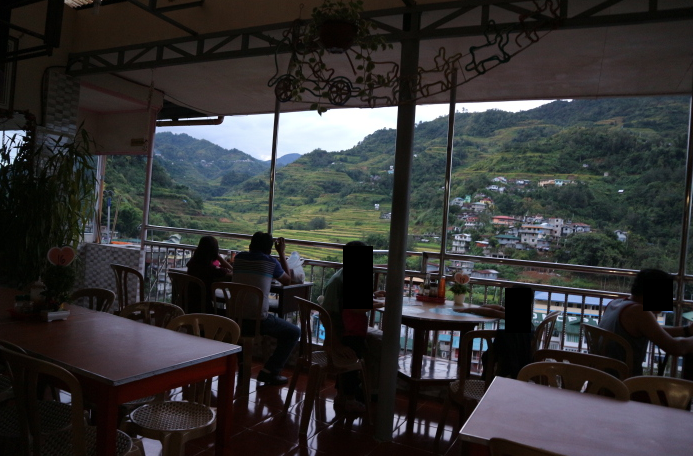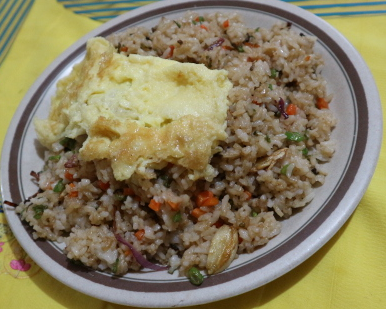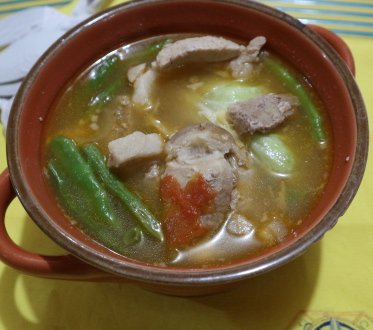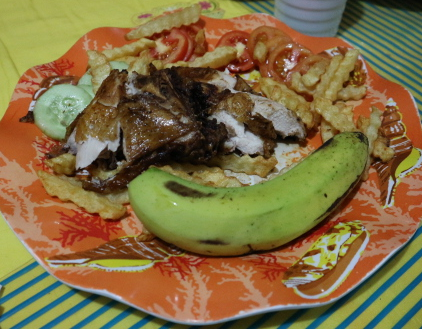 While having our dinner the electricity blackout. They said it's because of the weather. The rain is too heavy by that time that affected the power shortage in Banaue. We finish our meal fast and just go back to our room. Sanafe lodge is using a power generator by that time but the gas wasn't enough to use for a longer time so we had no chance to use the hot water for our shower. After around 1 hour of a blackout, the power comes back. We prepared to sleep by 9 PM to condition everyone for a long hike to Hapao Rice Terraces first thing in the morning.

On the next day, everyone wakes up at 6 am on the following day. Prepared all the hiking necessities and had our breakfast at Sanafe Lodge Restaurant. The driver arrived on time and by 7 am we are heading to Hapao Rice Terraces. Kids are observing everything they saw from the road. Including the walls of the mountain with a small landslide. Some walls have a stone on the base to avoid corrosion. Some walls have damage due to the heavy rain that makes the soil soft. By 7:30 in the morning we reach the main entrance of Hapao Rice Terraces, we get off the car and starts our walk to Hapao Rice Terraces.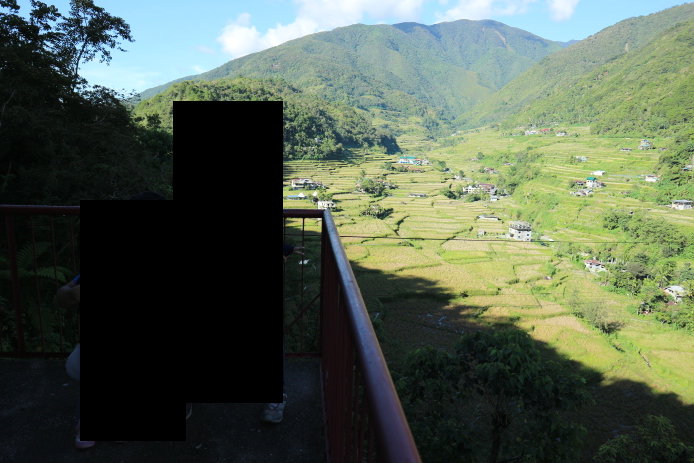 The Hapao is now called Hungduan Rice terraces. These Hungduan Rice terraces are on the list of World Heritage List of UNESCO. This is the reason we included in our tour the Hapao Rice Terraces so we can deep into the Hapao Hotsprings.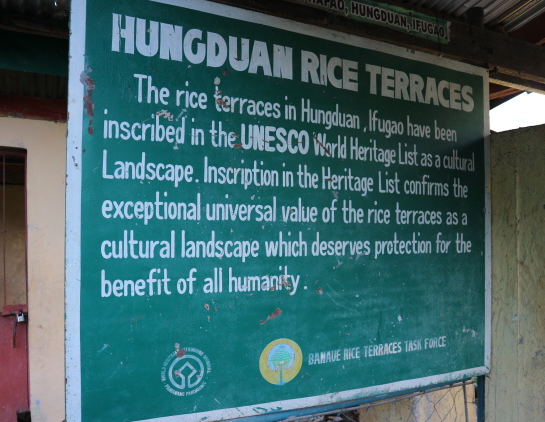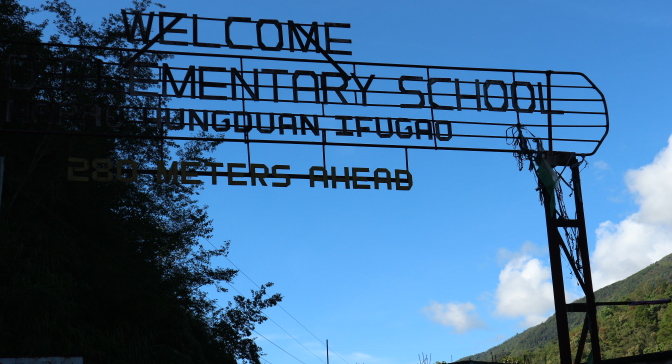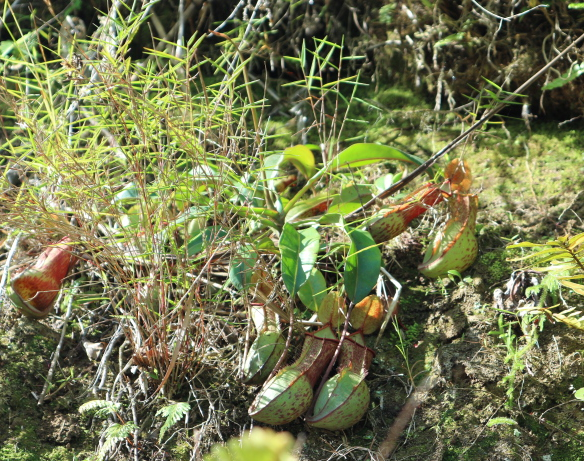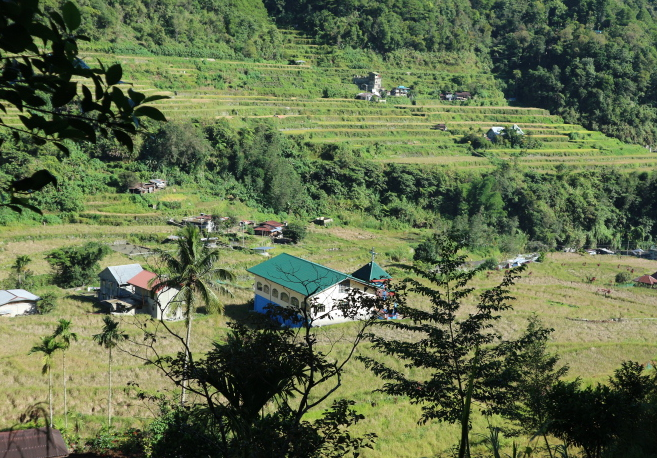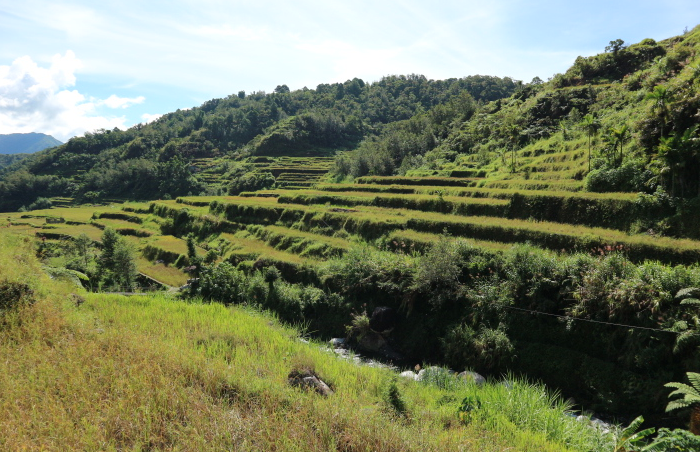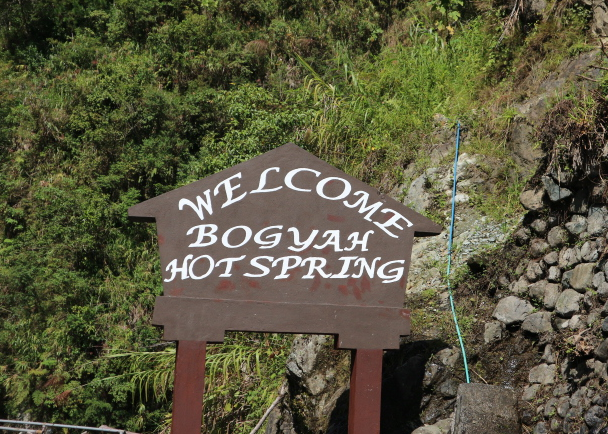 There is an entrance fee for all the tourists amounting to Php 50 per adults and children are still free.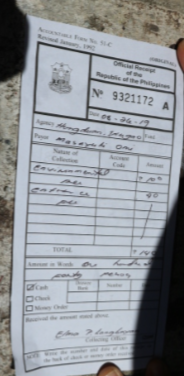 According to our tour guide they are harvesting the rice by cutting it one by one, selecting all the ripe rice or golden in color that is ready for harvest. Some grains of rice that are still young or color green are left on the rice fields awaiting for it to mature then they will cut it again one by one.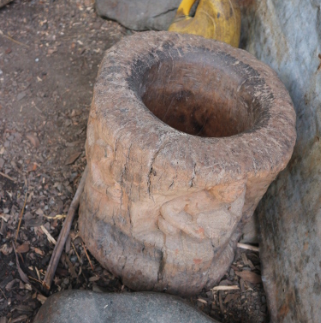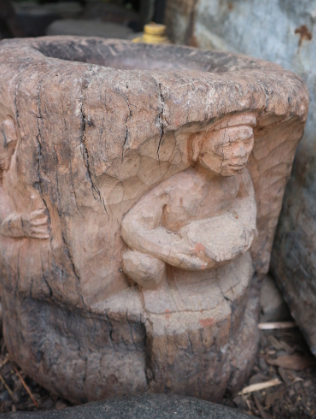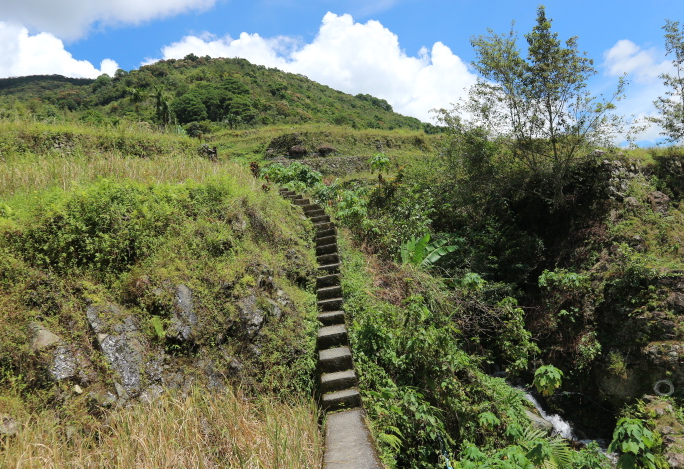 We finish the trek at Hapao Rice Terraces by 11:30 in the afternoon. Kids manage to end the hike with a smile in their faces and decided to continue the tour to Batad rice terraces. By 1:30 in the afternoon we are starting the trek to Batad Rice terraces.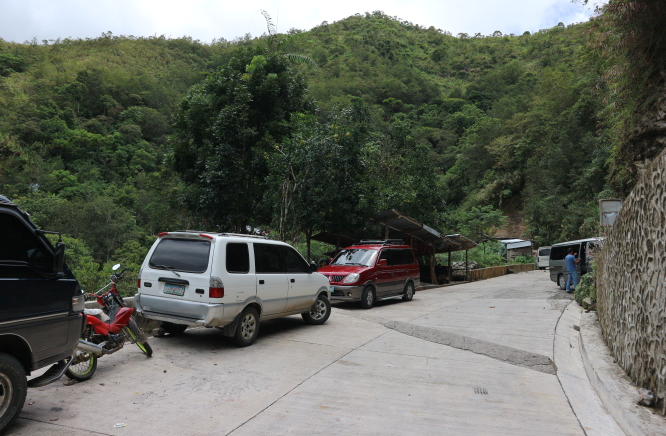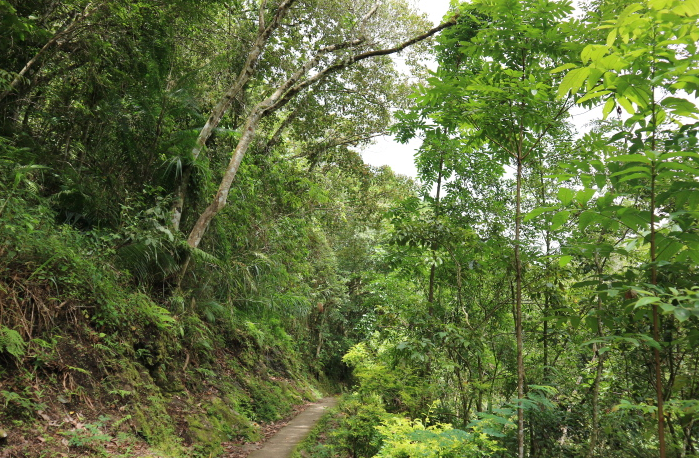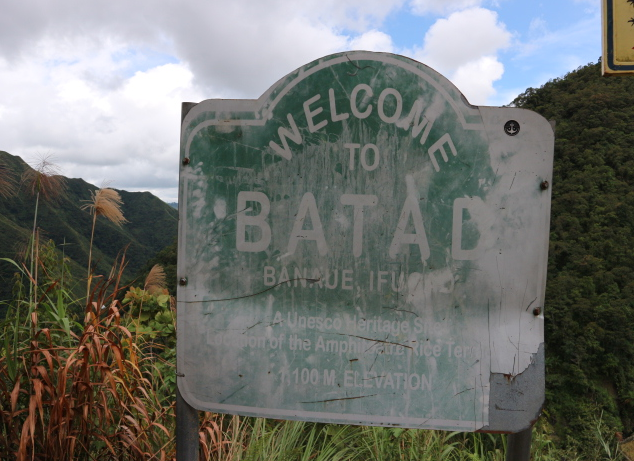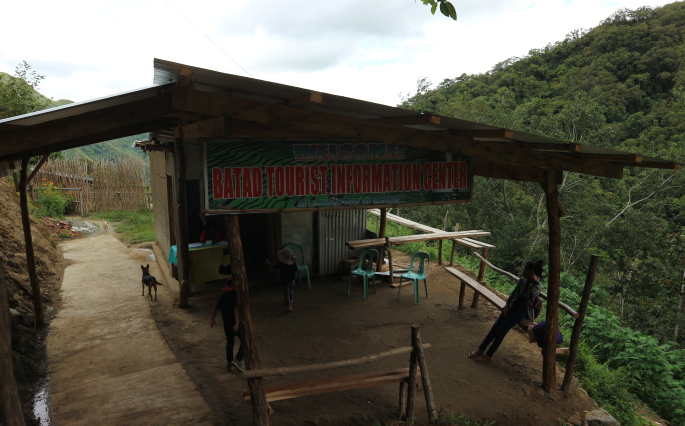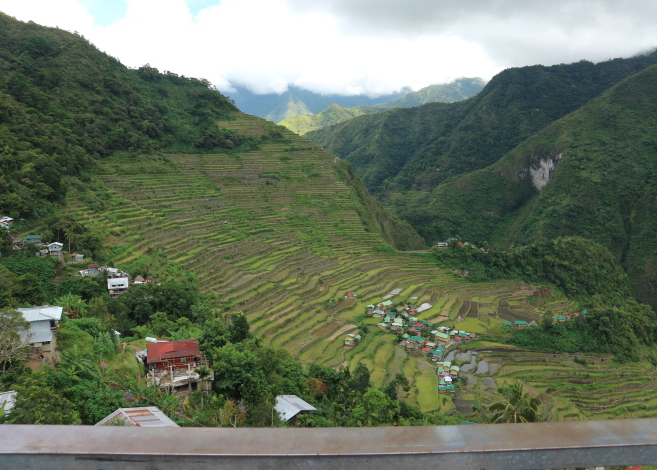 We are so hungry when we arrive in Batad Rice Terraces, and its our plan to eat lunch at Batad while watching the beautiful Rice terraces. We chose a restaurant with many customers eating inside, but wherever we look at Batad restaurant, there are many dogs in every corner. There are three dogs inside the restaurant, and the dogs keep on fighting over a portion of food. We are horrified as we are afraid of the dogs fighting in front of us. The dog's hair are everywhere too, so we decided to pay our order even we cancel our order right away. Luckily the owner of the restaurant permitted us to leave without asking any payment.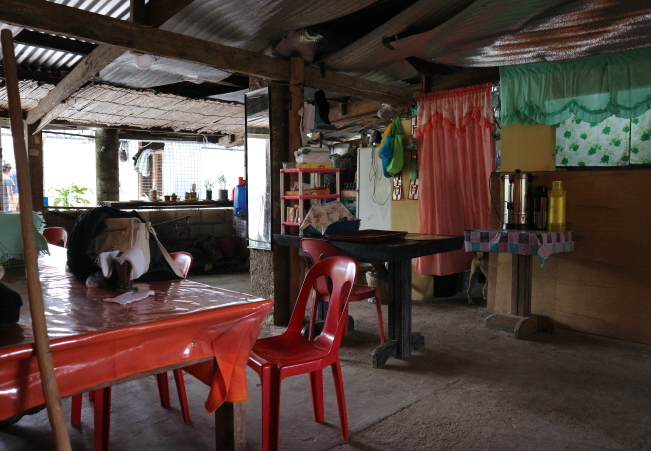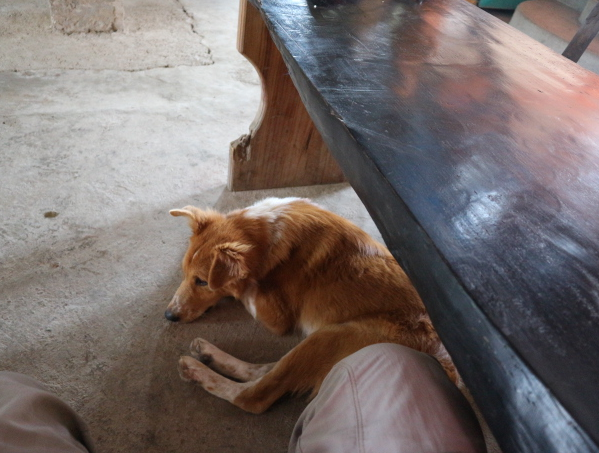 We are in a hurry as our bus going to Manila will arrive at 5 in the afternoon after our trek. We did our best to budget our time as we can and thankfully we return to our car just on time. At precisely 2 in the afternoon, we are on our way back to our hotel. We stop by at the saddle point -the old car park station when the road going to Batad is not yet constructed.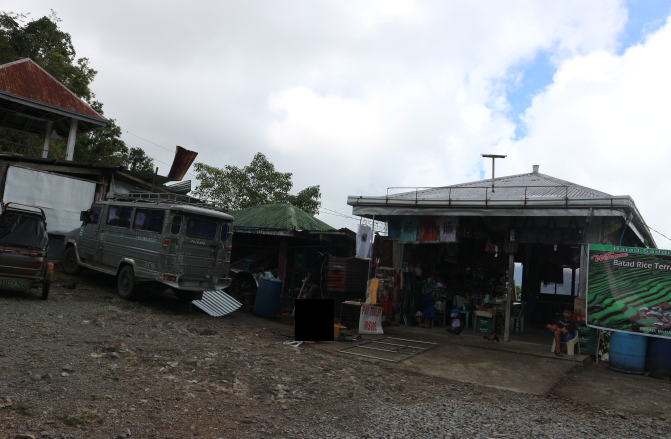 It was 2:30 when we arrive at the hotel, got a shower and eat at people's choice restaurant for our lunch by 3:00 in the afternoon. By 4 PM we are at the Banaue tourism office the pickup bus station for all the guests who will go back to Manila.
Overall we enjoyed our experience at Banaue Rice Terraces. Kids saw many insects and fishes during our trek at Hapao Rice Terraces. We now know that 6 years old and 3 years old are capable of walking the way to Hapao and Batad Rice Terraces. We cant wait for our next hiking with the kids.
---