My Application of Japan Visa at Discovery Tour Agency
No doubt that our favorite destination to visit is Japan, as my family is always looking forward to seeing the beautiful country of Japan over and over again. However, how do I get the approval to enter Japan? To enter Japan, you must have a passport and a valid visa. Although there are Japanese Visa exempt countries. Passport holders of these visa exempt countries can stay in Japan for stays of up to 90 days. As a Philippine passport holder, we must have a visa or permission from the Japanese embassy to enter Japan. Maybe most of you are hesitant to apply for a visa but don't worry as getting a tourist visa is quite easy, all you need to do is to complete all your requirements. There are agencies that can help you speed up the process of visa, and you may choose or refer below for the options of agencies;
List of Registered Agencies
RELI TOURS & TRAVEL AGENCY – Dusit Thani Hotel Main Office
ATTIC TOURS PHILS.,INC – Roxas Blvd. Manila Main Office
UHI – Main Office – Main Office Dusit Thani Manila Hotel, Ayala Center, 1223 Makati City
FRIENDSHIP TOURS AND RESORTS CORPORATION – MAin Office 3rd. Fllr., Dusit Thani Makati City
DISCOVERY TOUR INC. – Unit301G/Floor Sagittarius Building, H.V.Dela Costa Street, Salcedo Village, Makati City.
H.I.S. PHILIPPINES TRAVEL CORP. – Serendra Shopping Arcade, Bonifacio Global City, Taguig City 1634
RAJAH TRAVEL CORPORATION – 3/F 331 Building, 331 Senator Gil Puyat Ave., Makati City
PAN MALAYAN EXPRESS INC. – Main Office 4F, Grepalife Building, 221 Sen. Gil Puyat Avenue, Makati City
GRAND HOLIDAYS TRAVEL AND TOURS INC. – Manila Office GF Emerald Bldg F. Ortigas Ave Pasig City
TRAVELSERVICES INC. – Skyland Plaza Condominium Senator Gil Puyat Avenue , Makati City
MULTI DESTINATIONS INC. – Unit 203 Avenue Square Garden corner J. Bocobo Street & United Nations Avenue, Ermita, Manila
AMKOR TRAVEL AND TOURS INC. – Suite 108 West City Plaza Bldg. #66 West Avenue Quezon City
LUXURY VACATION HOLIDAYS AND TOURS INC. – Suite 401 Mario Co Building 1945 Adriatico Street, Malate, Manila
SPARKLE HOLIDAYS & TRAVEL CORPORATION – 301 Mario Co Bldg. 1945 M. Adriatico St. Malate, Manila PH 1004
GOLDEN EAGLE TRAVEL AND TOURS INC. – 129 Timog Avenue, Quezon City, 1103
JTB ASIA PACIFIC PHIL.CORP. – 18th Floor, Unit2, RCBC Savings Bank Corporate Center 26th & 25th streets, Bonifacio South, Bonifacio Global City, Taguig City
PREMIERE TRAVEL AND TOURS INC. – U33 3rd Floor Legaspi Suites 178 Salcedo St., Legaspi Village Makati City
Or you may check all the complete information such as the contact numbers of agencies from this link of Accredited Agencies in the Philippines which can help you process your dream Japan-Visa.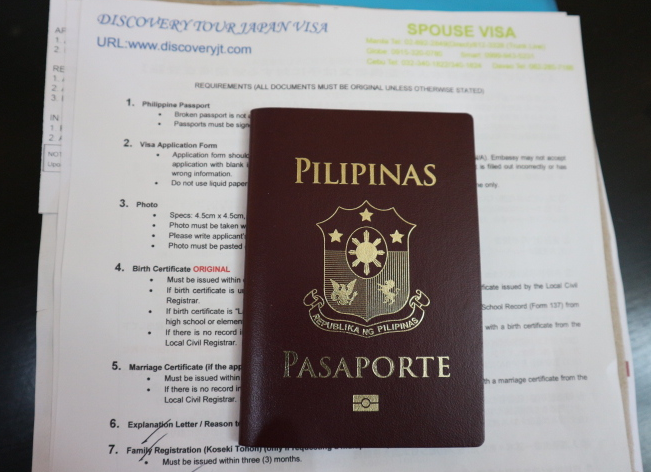 As an applicant, I chose the Discovery Tour Agency as this is the nearest agency in my place. There are few conditions from Discovery Tour on how you can get a multiple entry visa. I aim to get a multiple entry visa for Japan as my spouse is a Japanese National. You may check at Discovery Tour Official Websites the specific conditions on how they can issue the multiple entry visa. Below are the following requirements I submitted to Discovery Tour Agency;
Your Philippine Passport, it must be in good condition and no broken page. Applicant must sign the passport and at least with two blank pages so they can attach the visa if It gets approved.
Fill up the Visa Application form. You may download or print the Visa Application Form here. Must be filled out all the items correctly. If your answer is not applicable write (N/A) as the embassy doesn't accept application forms with a blank or empty item, write your signature and date in the form. Be careful about answering as the embassy may deny any application with incorrect or wrong information.
Fill in the form from the embassy explaining why you are requesting a multiple entry visa.
Photo measuring 4.5cm x 4.5cm, with white background. The photo must be taken within six months. Don't Forget to write your name and date of birth at the back side of the pictures. Then paste it on your application form.
Attach your booking itinerary as proof that you already booked the flight to Japan however this will not guarantee that your visa will be approve.
A clear copy of the Income Tax Return of an applicant. For me, I attached the ITR of my husband.
Attached any old visa stamp as a reference that you entered Japan from the last three years.
Birth Certificate from Philippine Statistics Authority requested not later than one year.
Marriage Certificate ( From Japan and Philippine Statistics Authority not later than one year.)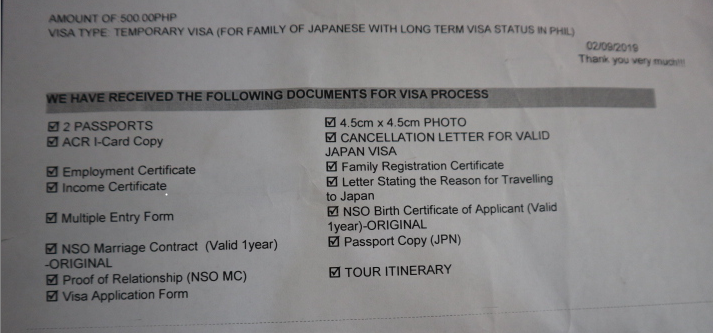 If you saw above, I have the cancellation letter for valid Japan Visa because I still have my valid visa at that time attached to my old passport as it was expired already. The Visa attached in my invalid old passport can still use according to them, but we chose to cancel the visa from the old passport and request for a new Visa for my new passport to avoid any problems.
Don't forget that the paper size for application should only be A4 size. Your requirements are the key so the embassy can grants you the multiple entry visa. Make it clear and no erasures. Write in the bold letter so the embassy can easily understand the information. A strong chance of approval if the complete requirements are accompanied with valid reasons, you should have enough amount of money or more than enough amount on your bank account as proof that you have the budget for your stay in Japan just in case you get the visa. However, the agency cannot give an exact amount of money we should have in our statement of account. In this part, we advise you to calculate or use your instinct or predict how long your money can last if just in case you go to Japan.
Discovery Tour staff are all friendly, so do not hesitate to ask them if you have any questions. Payment is Php 500 only, and if there are no problems or missing requirements, then you can get your Visa just after three days. Present the claiming stab and a photocopy of your identification card on the scheduled date you'll get your passport and the Japan Visa. The papers you submitted will not return to you anymore as the agency already filed it to the embassy.
Overall, based on my experience it was a smooth process of applying for a Japan visa under the Discovery Tour Agency. I never tried any other agency yet so I can't tell which is the best agency you can go to for the application of Japan Visa, but for me, Discovery Tour is enough and will surely go back to them once my Visa needs to renew again.
---