Our Experience for Applying Certificate of Eligibility as a Spouse of Japanese National
In preparation for our upcoming migration to Japan, my husband who is a Japanese national prepared and gathered all the documents for my application of Certificate of Eligibility. The Certificate of Eligibility or COE is the only requirement on how I can get a Zairyu Card or residence card from Japan. We will need to present the Certificate of Eligibility at the Immigration in Japan on my first entry once I had the certificate of Eligibility.
A not so long ago, I got my certificate of eligibility. Now I will share with you our experience on how I got mine. Last July 2019 we submitted all the necessary requirements at the nearest Immigration office in our home province in Japan. This is for all the foreign national that are wanted to enter Japan and will stay higher than the number of days offered from the Japan tourist visa which is 90 days or equivalent to 3 months. Take note that you need to request a Certificate of Eligibility in advance so that the applicant can receive it just before entering Japan. Applicant must fill in all the important application forms, attached documents and submit to the applicants the nearest regional immigration office. Requesting COE is free of charge. The following are the documents we submitted:
Fully fill out the application form in a clear way. It can be downloaded from the official website of the Immigration of Japan.
A photo with a size of 4cmx3cm. Note that only the applicant must be seen in the picture. Face should clearly face forward. It should be sharp and clear, white background with no shadows and taken within three months prior to submission.
Attached a return mail envelope with a stamp on it that worth 392 yen. This will be used for the delivery of the certificate of eligibility once approved.
Certification of a tax return from a Japanese national is required to attached. In our case my husband is not working in Japan so he had no tax return, instead, the company provided a certification of employment in the Philippines.
A letter stating that my husband will guarantee everything I do in Japan.
A certificate of my husband's family registration in Japan.
We also attached our family picture as proof.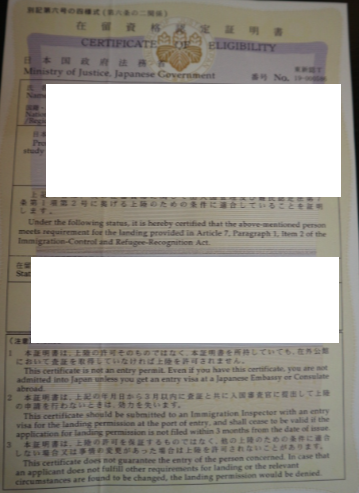 We submitted my documents at our nearest immigration office in Niigata , around July 19, 2019. The staff checks our documents thoroughly then afterward informed us to wait for at least one to two months. The certificate of Eligibility was received by my mother in law in their house in Japan last Sept 21, 2019, exactly two months after we submitted the documents.
Take note that all documents must be submitted in the original copies. The said documents will NOT be returned to the applicant. You may check the full details on the Japan Immigration official website. Official forms can be downloaded at their official website too.
After obtaining my certificate of Eligibility the next step is to obtain a new visa. I recently get the new Visa from Discovery Tour Agency and I will share it on a separate blog. I will be posting it very soon more about the requirements for applying for a visa under a certificate of eligibility. 🙂

---